Catching Kings in Alaska with the Dirty Troll
 Back when we decided to get into the spinner game, we knew we were on to something big when we came up with our Dirty Troll line of trolling spinners. However, when push comes to shove it's really a matter of putting your gear to the test, in essence, put your money where our mouth is. We of course, were confident in our product, we had assembled all the killer color combo's, twisted up the wire and attached the most effective blades we could find. Now it was time for do or die so we headed out on the water to embark on the things that legends are made of. The key was how effective our spinners would be at catching salmon.  
 Since we're headquartered in the Pacific Northwest salmon is the most prize species targeted by anglers thus the only logical option for our new trolling spinners trials.  We also knew that not only would our spinners have to attract fish to the bite, but they will also have to withstand the rigors of getting hammered by fish that range from 5lbs all the way to 100lbs. We were definitely up for the task but a little nervous as well. Fortunately we found the perfect candidate to give it the old college try. When is comes to targeting massive schools of salmon there's really was no better place than Seward Alaska during the peak summer season. For this endeavor, we solicited the assistance of one of our pro staffer Aarron Schmidt of Schmidtys Guide service. Aarron fishes the whole summer and a good part of the fall in Seward Alaska known as the land where salmon and halibut reigns supreme.
 During this series of our Dirty Troll Spinner trials, we decided to incorporate two specific models from our first-generation Dirty Troll line up which utilized the infamous Colorado blade. The Dirty Troll Sparkler edition and the Hammered Pinky. These two spinners alone have proven that our Dirty Troll line was destined to become one of the top trolling spinners manufactured in the Pacific Northwest and possibly even the nation.
---
Dirty Troll #4 Hammered Pinky Salmon Trolling Spinner with Matzuo sickle siwash hook
---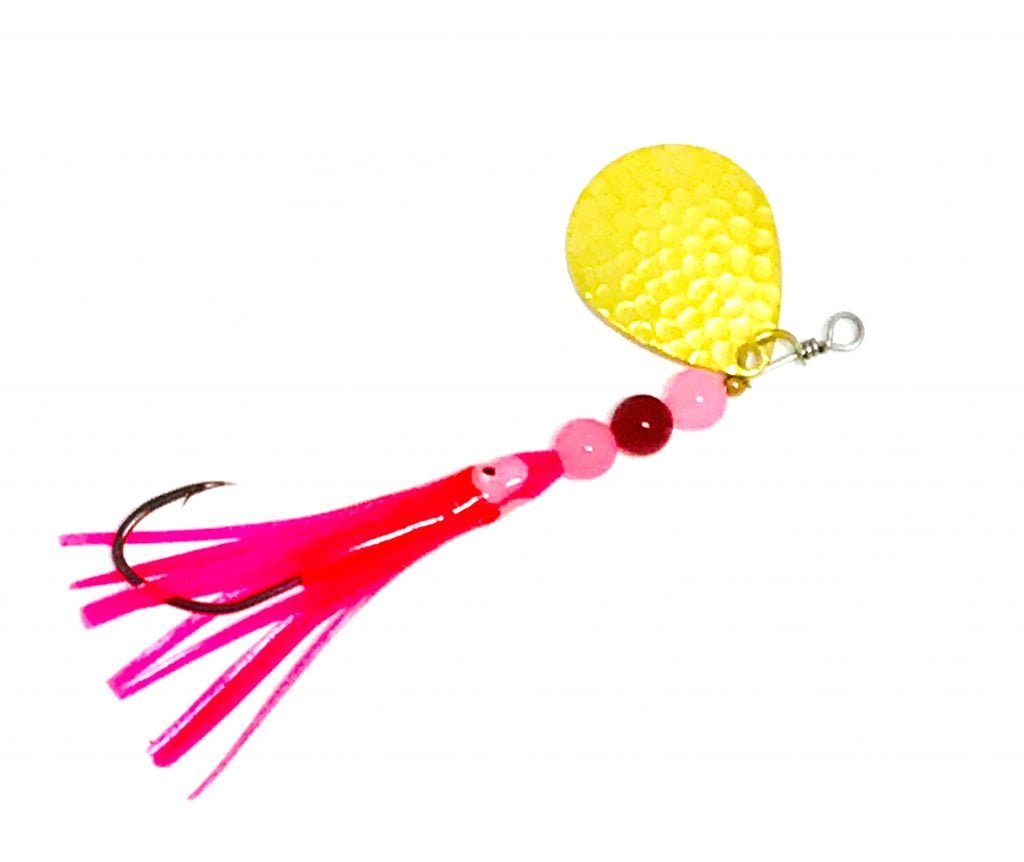 ---
Now when it comes to the troll game it's all about getting it in front of the fish. To get the spinners down to the optimal depth it requires the incorporation of a diver in front of a flasher with our spinners trailing behind. Once we found the blob of the fish and got our rigs down to the appropriate depth, in a matter of minutes it was one right after another. With double hookups and high spirits, our Dirty Troll spinners were definitely proving there effectiveness when targeting these feisty Alaskan salmon.
 Although both spinners we immensely effective with hookups running about 50/50 between the two models we were able to land more fish with the Hammered Pinky versus the Sparkler. Now at that time, we were using .028 stainless steel wire which is more than enough for steelhead and overall very effective and durable when river fishing for salmon. However, we couldn't ever have anticipated having more than 60 hookups in a day and landing over 45 fish on just these two killer lures but that is exactly what happened.  
---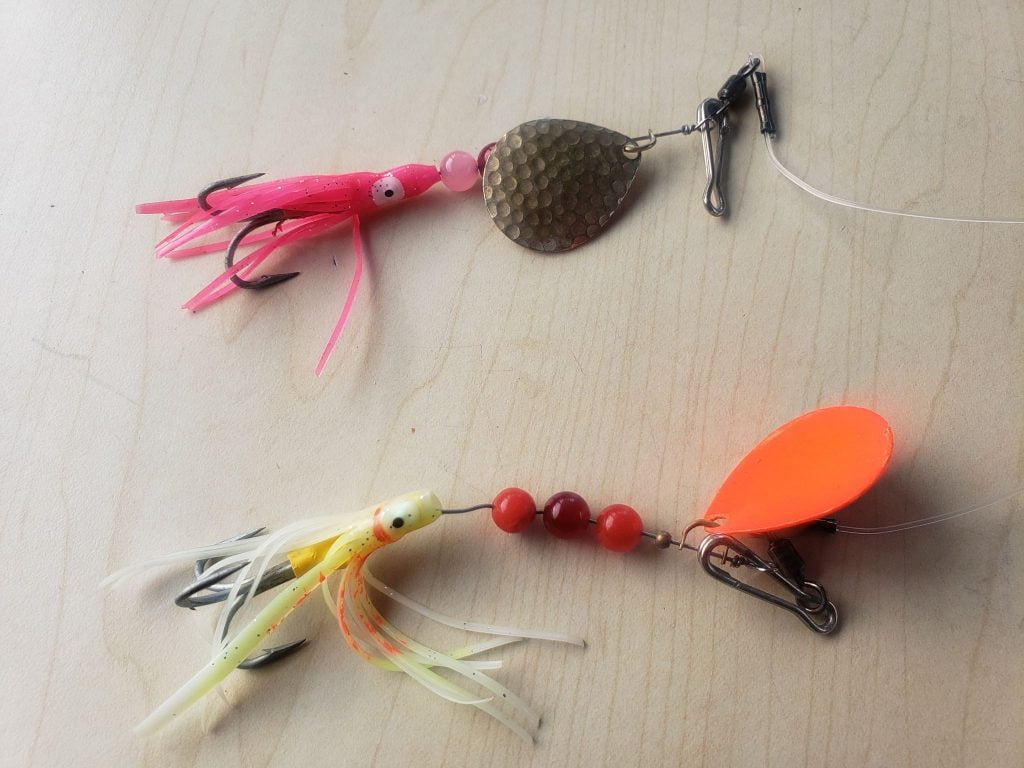 ---
 This of course really put our spinners through the torture test hefting one coho after the other weighting from 8-10 lbs with the big ones hitting the 12lbs range.  One of the interesting things we found was that our Dirty Troll Sparkler spinner which incorporated our larger 4.5 Colorado blade began to experience some wire bend under the stress of catching so many fish.
 Even funnier was the more bent the wire became the more hookups we got. Our Hammered Pinky, however, held strong and even though it had the same .028 wire and the same number of hookups, we didn't have any issues with bending. In addition, we landed more salmon with the Hammered Pinky which incorporates our #4 Hammered Brass Colorado blade.  
---
Dirty Troll #4.5 Sparkler Salmon Trolling Spinner with VMC 4X strong treble hook
---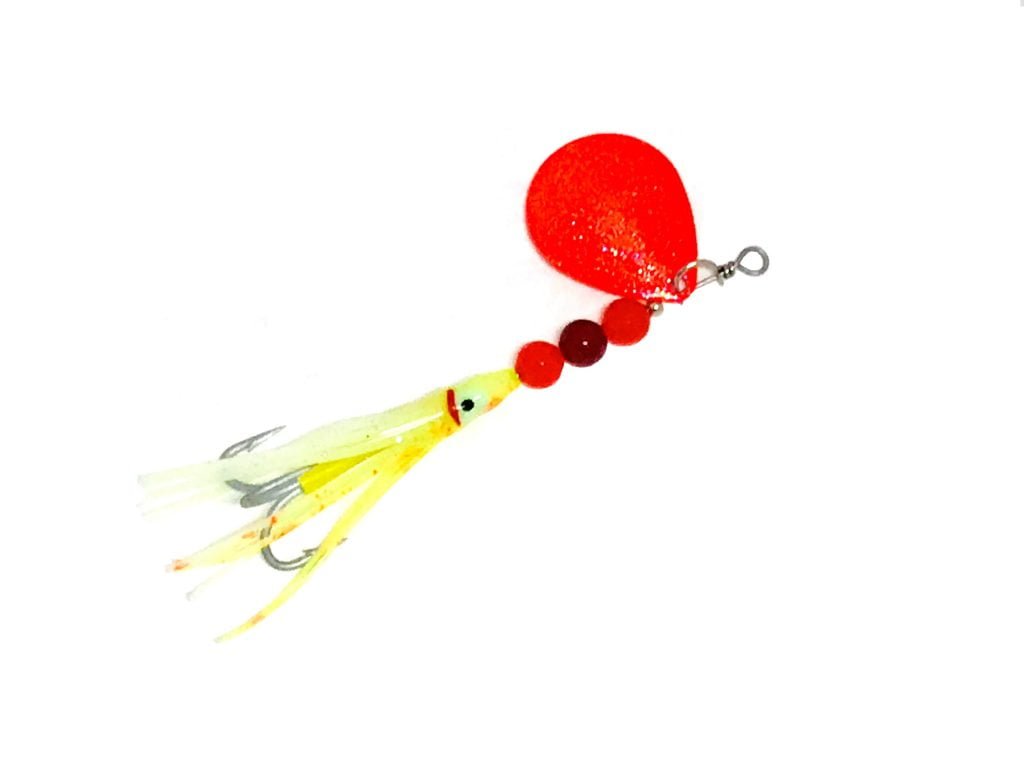 ---
 Granted the Sparkler didn't fail our test, it caught a ton of fish and proved super effective. The fact that the wire bent helped us to determine that we needed to strengthen up our trolling spinners. We used the situation as a learning experience and now all our spinners are built with the larger .035 wire which is a significant upgrade from the traditional .028 used for many of the salmon spinners commonly sold in retail stores.  
 One thing for sure, there is nothing more satisfying than seeing your gear successfully land 45 salmon in a single day of fishing and as a result, we have modified our product and made it even better than it was before.  Test our Dirty Troll out for yourself and see how we're changing the face of the sports fishing industry forever. 
---
Another coho taken in Sward, AK. Only this time it's with our Dirty Troll "War Hammer" Trolling Spinner
---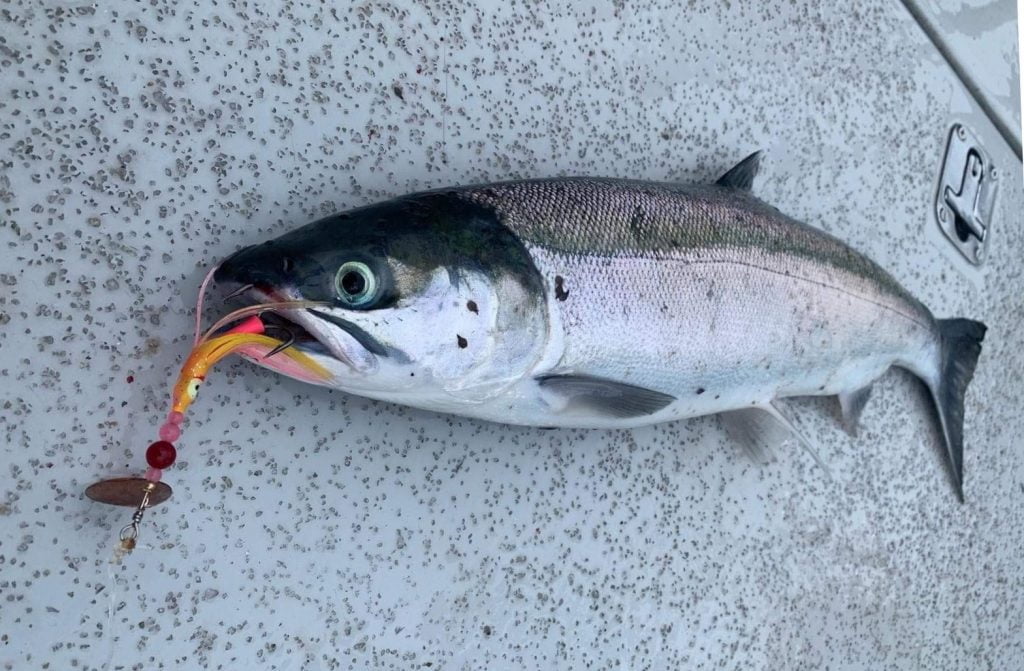 ---